Setting the Standard in Golf Range Accessories
Not only is Standard Golf the leading golf course accessories manufacturer, but we also make and distribute a plethora of equipment and accessories for the golf range as well.
From individual hitting stations, range banners and flags, to ball pickers and range ball washers, Standard Golf is your one stop shop for all of your golf range accessories and equipment.
Setting up the Range
When setting up the range, Standard Golf has several options depending on how elaborate you wish to make your range. We have many different kinds of bag stands (from our simple Bag Caddie to the more elaborate Premier Bag Stand which has "cut outs" for keys, tees, drinks and your mobile phone) alignment rope and even two different styles of range dividers as well.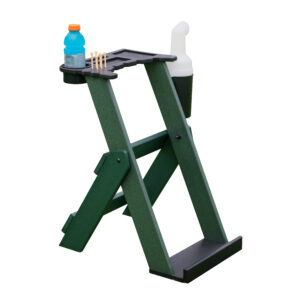 The alignment rope is great as it has over 100 feet (30.5 meters) in length with 10 equidistant markers to help you evenly set up each hitting station with range dividers and bag stands. Not to mention, with 10 feet (3.5 meters) between hitting bays, these bays are more than properly social distanced to help fight the spread of Covid-19.
Ready, Aim, Swing Away!
Now that the hitting bays are set up, the golfers need to take aim at some targets. Many of us love to "grip it and rip it" but we've all long learned it isn't so much the longest hitter, but the most accurate that will win at golf. So having some targets to aim at is a great addition to your driving range.
As you can imagine Standard Golf as several different types of range targets: flags, yardage markers and range poles to your golfer to set their aim and sights. We have traditional nylon horizontal and vertical range banners that can be either green or yellow with large black numbers sewn on to indicate yardage from the tee. If yardage flags are your thing, we can also offer over-sized pin flags (18″ x 25″) of multiple colors and our red and white flags will have the yardage on them as well (50 / 100 / 150 / 200 / 250).  Additionally, we also have vertical distance flags that are yellow and hang on our yellow Royaline flagsticks. A nice easy way to add distance to your course.
To add color to driving range, without having set numbers in place checkout our range marking poles. These poles are now in 2 pieces for easy shipping. And in addition, you can now add a flag to match the poles strip colors or add your club's or tournament logo to the flag to really dress up the range.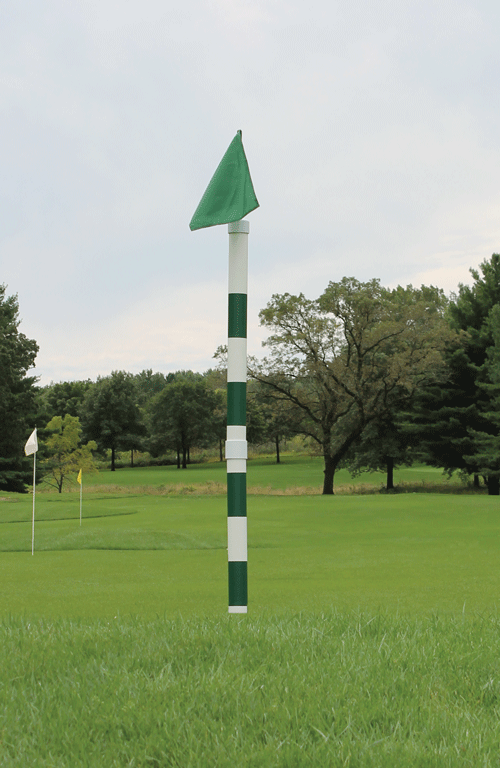 It is not always about the bashers as well – we have several products that can be used to set up a "mini" short game area as well.  Use our EasyMark II and you can easily add a regulation Royaline or Tournament Flagstick to any location on your driving range. The beauty of the EasyMark II is that you do not need to cut a hole to add. Just use a rubber mallet to hammer down into the ground, then add flagstick and flag.
Time for clean-up
If you have a busy range, then perhaps you need to pick up golf balls more frequently than once per night. In either case, regardless of how large or busy your range is, Standard Golf has many different sizes of range ball pickers to suit your needs. From our new "in-line" ball picker to our large 5-gang Magnum Ball Picker we have your covered. For smaller ranges and practice areas we also have some push behind ball pickers as well.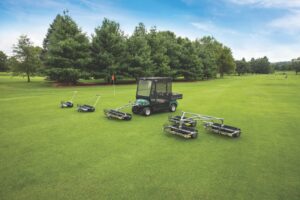 With a history dating back to 1910 Standard Golf is your premier golf course and golf range accessories manufacturer. Not only can we help you to maintain a beautiful golf course, but we can also make sure your driving range is in perfect order and condition as well.