New Products for 2023
With the calendar turned to 2023, that means trade show season is upon us. With the Golf Industry Show drawing near, it's a great time to introduce our new products for 2023.
Our new products for 2023 feature not just entirely new products, but also some additional color and pattern options for products you've come to know and love from Standard Golf. In 2023, Standard Golf also brings you some new products to help brand your course from tee to green.
2023 Digital Catalogs
As usual, our 2023 catalog is available in a digital format in five different languages. You can find the digital catalogs by clicking here. Catalogs are available in English, French, German, Italian and Spanish. As was the case in 2022, pricing was not printed in the catalog due to market volatility. Pricing for individual items can be found by searching the items within the Shop section of our website.
New Products
Royaline Extension
Get the 10-foot flagstick you are looking for without the higher freight costs. The 32" extension, available in white and yellow, threads onto the tip of the 7 ½' royaline flagstick, with no glue required, extending the flagstick to 10 foot.
Custom Deluxe Tee Markers
Standard Golf has always been at the forefront of helping courses customize their course from tee to green, and our new custom deluxe tee markers are another way to enhance the look of your tee boxes, while showcasing your course or tournament logo. These recycled plastic tee markers have a two-tone color scheme with a 4 ½' spike and are double-sided. For customized markers, there is a minimum of 18 per shape and color. You can email your artwork for the custom tee markers to orders@standardgolf.com. You can also call 800-553-1707 with any questions on the custom markers. These markers are perfect for daily use or your tee boxes, or for tournaments or other special events.
The tee markers are available in six shapes: circle, arch, square, oval, pill and rectangle. There are six different two-tone color combinations available: (black tee marker with white logo, blue marker with white logo, red marker with white logo, green marker with white logo, yellow marker with black logo, and white marker with black logo.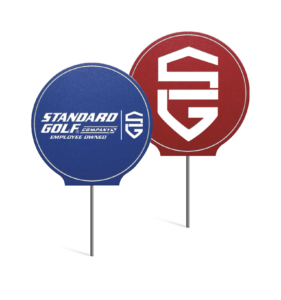 Dye-Sublimated Aluminum Signs (Stock & Custom)
Stock Dye-Sublimated signs are available in 12" x 12" only.
Custom dye-sublimated signs are available in 12"x 12" and 12" x 16." We can turn images or text into a dye-sublimated sign. The dye-sublimated signs are made of aluminum, allowing them to whether the elements, no matter the weather. Most importantly, our dye-sublimated signs can arrive to you quicker due to their shorter turnaround time, as compared to screen printed or recycled plastic signage. Our dye-sublimated signs are another tool in helping us customize your course from tee to green.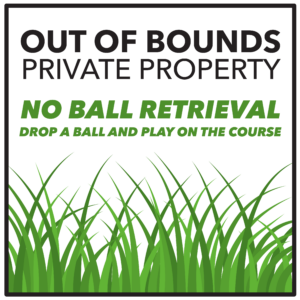 Vibe Speaker Tumblers
In the outdoors, in the office or around the house, your music and beverage can go with you with the Vibe Speaker Tumbler. The 18-ounce, 18/8 stainless steel tumbler comes with a built-in 3.7 watt Bluetooth speaker. Vibe tumblers are available in 12 different colors, and with a minimum order of 20, can be customized with your company logo.
The tumbler, designed to fit most cup holders has an airtight lid that you press onto the top of the tumbler to prevent spills. The airtight lid features a slider to prevent leaks and spills. Simply open the slider when you're ready to consume your beverage. The tumbler also features a rubber bottom prevents sliding. The tumbler and lid are dishwasher save and BPA free.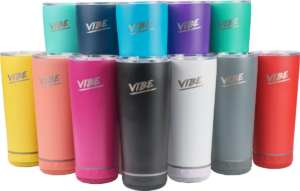 Divot Easel
Use this easel sign on your driving and practice range to promote good etiquette, encouraging golfers to help maximize the grass on the range by placing the ball at the back edge of the previous divot, forming a linear divot pattern. Easel is single-sided, laminated plastic.
Dimple-T Broken Tee Caddie
Give golfers a place to deposit their broken tees that offers a similar look to our Dimple-T Markers. Available in your choice of nine colors (red, white, blue, yellow, black, silver, gold, orange or green.)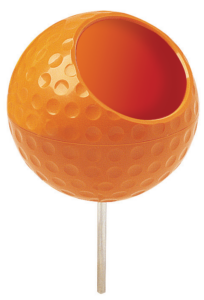 Raised Square Club Washer
A new take on our Recycled Plastic Club Washer, with a square shape. Comes included with a 5-gallon bucket and hand brush, along with featuring a club rest.
New Options for Old Favorites
Molded Flag Top for Range Marking Poles
2023 brings three new options of the Molded Flag Top for the Range Marking Poles. New this year are molded flag tops available in an orange flag, a yellow flag, and the American flag. The flag tops for the Range Marking poles allow golfers to see the wind direction on the driving range, while also enhancing the look of your range.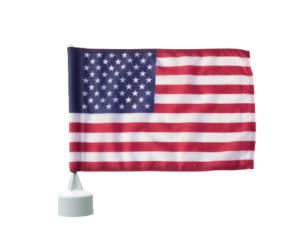 Two-Piece Range Marking Pole
In addition to the new options of molded flag tops for the Range Marking Poles, there are also 3 additional striping patterns available beginning in 2023 for the Range Marking Poles. Now offered as stock stripe pattern options are an orange and white, yellow and white, and a red, white and blue striping pattern.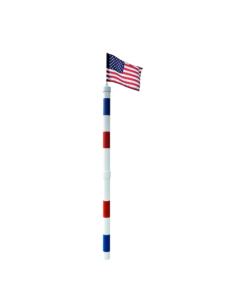 Practice Green Pennant Sets
Pennant heads are now available to purchased individually. Solid color pennant heads are available in black or white. Numbered pennant heads are also available for purchase individually in white pennant head with red number, white with green number and a black pennant head with yellow number.
Clock-On-Post & Single-Sided Easel Clock
Our clock-on-post and single-sided easel clock features our new 15" clock. Available in green, black or brown.
Six-Yardage Clock Easel
Easel features six flag colors with customizable distances (easel comes with six sets of numbers 0-8 to display custom yardages.) New to the six-yardage clock easel in 2023 is our new 15" clock, the same 15" clock featured on our easel clock.
2023's New Products from Standard Golf offer additionally possibilities to help customize your course from tee to green. You can always count on Standard Golf's great customer service to assist with your orders.