Golf is Better when Played with Clean Golf Balls
Standard Golf has been making ball washers for the golf course industry for most of our existence. Today we have three on course ball washers and one for the driving range.
In the 1920s the first ball washer was introduced, a version of what is seen today as our Classic Ball Washer. As a company that started manufacturing farm implements, it will not come as a surprise that our first ball washer was a direct descendant of our "automatic hog waterer". Today, the Classic Ball Washer is one of our top selling products.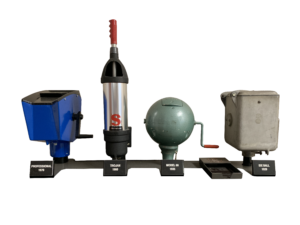 Classic Golf Ball Washer
The Classic Ball Washer was the first of its kind. A post-mounted ball washer that can wash multiple balls at one time. Today, these are both still true, and many are finding ways to add this washer to carts or other accessories.
In addition to the classic look, this ball washer is our least expensive model and has a great opportunity for course or other branding. This ball washer has a crank-style washer with a new brush design for 2019. A rugged and clean shell this washer comes in six (6) different colors. Additionally, with orders of 9 or more, we offer free engraving on the side of the ball washer.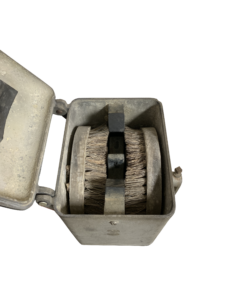 Medalist™ Golf Ball Washer
A sleek, tapered frame: the Medalist™ Ball Washer can be mounted on the inside of a post. With only one moving part, the design is simple and economical for a cast metal ball washer. The washer comes in 3 colors, but custom colors are an option.
Similar to our Premier™ Ball Washer, the plunger can be adjusted to be a firmer or less stiff pull. In the video below, our Engineer Terry Schoppe demonstrates how to make this adjustment.
Premier Ball Washer™
As with our other two on course ball washers, the Premier Ball™ washer comes with a new and improved interior brush design. This design allows for less material, but more interaction with the ball to obtain maximum cleanliness.
The "Cadillac" of our ball washers, the Premier mounts over the top of the post for added structural integrity. We've added a large drain and tamper-resistant, leak-proof drain plug. As with the Medalist, this ball washer has just one moving part for a more simplistic assembly process.
Magnum™ Scrub-Pro™ Golf Ball Washer
We did not forget about the driving range or practice facility. Our Magnum™ Scrub-Pro™ Golf Ball Washer is the workhorse for your bulk golf ball washing needs. Cleaning up to 12,000 golf balls per hour, this machine utilizes our "dimple brush" design that cleans all golf balls including those with hard-caked dimples.
Available in both a 115 volt and 230 volt motor, this ball washer is the last you'll need for your range or practice area anywhere in the world.
Sparkleen™ Liquid Detergent
You do not wash your windows without soap, so why wash your golf balls without any as well? Sparkleen™ Liquid Detergent is a concentrated formula that will last for days inside your ball washer. Safe to use in all brands of ball washers, including range ball washers. Sparkleen™ will not damage washers or internal parts nor become rancid in hot weather. The product does not contain bleach and is non-corrosive. Available as a single one-gallon (3.8 L) jug or as 4 one-gallon jugs.
Standard Golf is more than on course accessories. We offer dozens of tools and other instruments to help the golf course superintendent complete their job efficiently and effectively. Visit StandardGolf.com for complete product line details.