Lets get creative with custom golf flags
Since the early 1900s Standard Golf has been manufacturing golf course accessories and for many of those years on-course pin flags have been a special part of our offering.
On course flags can range from a standard single color with a number, to an elaborate logo. The ability to use multiple manufacturing techniques has allowed Standard Golf to make flags of all types. Best of all, we've been able to work on making them affordable for all clubs and courses.
Standard Golf has been making on course flags for major golf tournaments all the way to a one-day local event. Whether we are making flags for a Tour event or the local Boy Scout fundraiser, the same amount of pride and workmanship goes into each order. With our multiple manufacturing options and the quality of each flag, Standard Golf is able to pull away from the competition.
With Standard Golf not only do we have the capability of making beautiful flags for your daily use, but with our "Event Flags" we can also offer a great tool to help you brand your special events, offer a new pro shop item or even help local charities to raise additional funds during their local events.
Over the last 10 years on-course pin flags have become one of the more sort after souvenirs when attending professional golf events; golf shirts, hats and now flags are the popular items.
At Standard Golf we can make custom golf flags in three different manners: embroidery, screen print and dye-sublimation. It is the latter which allows us to make some really special flags, and to offer flags at some very attractive prices.
Embroidered Golf Flags
Embroidered flags are like a trophy or a painting: they can be so beautiful. Heavier flag weight and, of course, the extra stitches with the logo make these flags standout. The most expensive of the custom flag as you need a special machine to be able to "stitch" the flags together. Many of our embroidered flags end up flying over major tour stops or international events.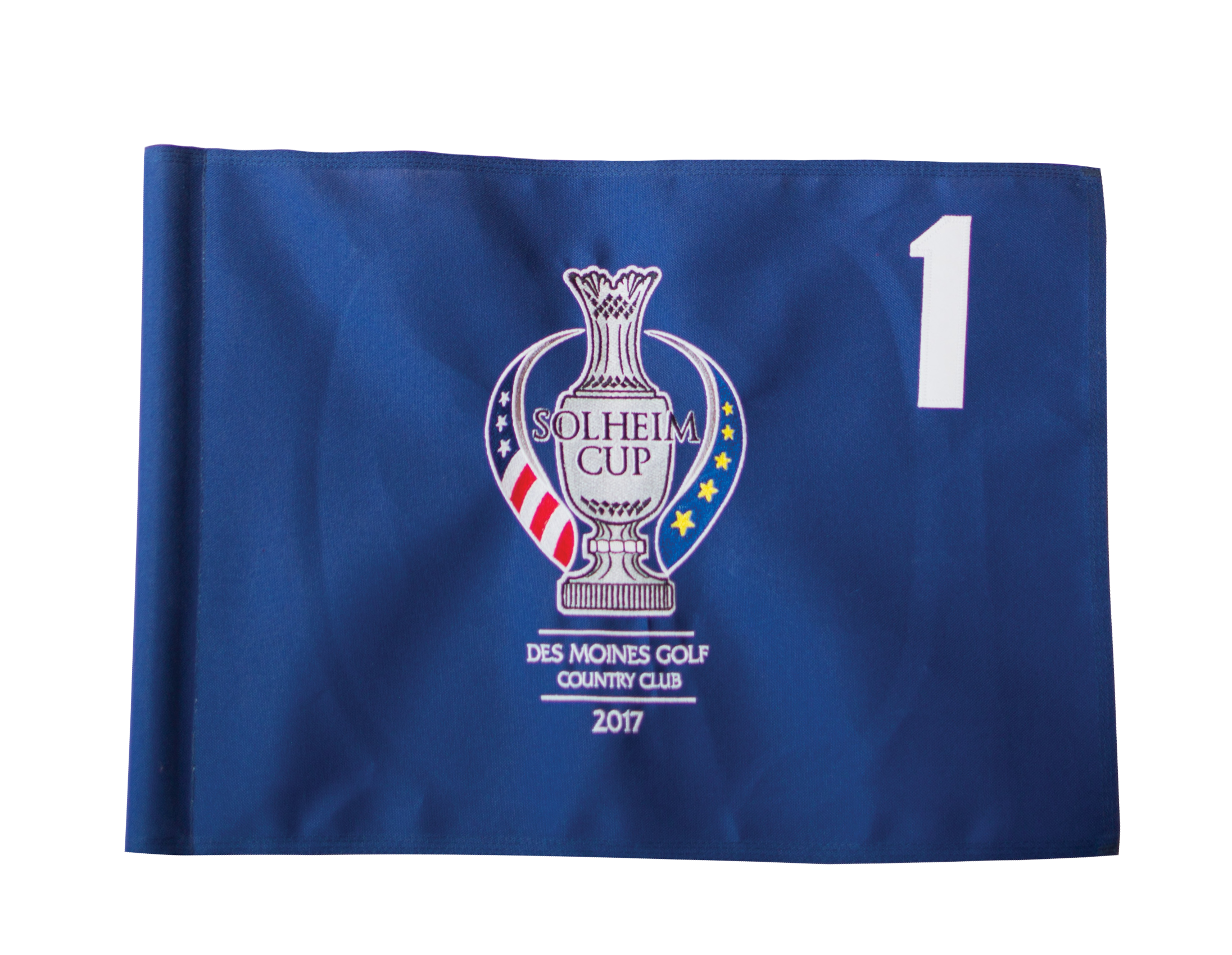 Screen Printed Golf Flags
With a slightly quicker turnaround time and less expense than embroidered flags, screen print answers a lot of questions for those looking for a nice custom flag. Like embroidered flags, our screen printed flags are available in both grommeted flags and "tube lock" (flags with hard plastic tubes to sewn to the flag that you can slide over the flagstick).
These flags have a lot of flexibility. You can screen a red flag, blue, white or even a checkered flag. As long as there is a blank space on the flag, we can screen print. The biggest thing to remember about screen printed flags is that each color is a "screen" and it is each screen that helps to determine the pricing. So if you're looking for a single color flag with one color screen logo, or even 2 colors, the screen printed flags are a great option.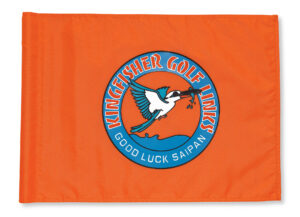 Dye-Sublimated Golf Flags
Do you want to have 3 or more colors in your logo? Is your design so complex that you wish to use the entire flag as the canvas? If you're moving down this road then our dye-sublimated flags are the option for you.
The main characteristic of our dye-sublimated golf flags is that the cost is not dependent on the number of colors in your logo / design. In short, if you can print it, we can make it a flag.
With dye-sublimated we can have one main logo (say for your event) and then each flag could have the name of the hole or corporate sponsor. So if you're selling hole sponsorships or corporate sponsorships to raise funds for the event, our "dye-sub" flags are the way to go!
Another great option with these flags is our "Event Flag." At a U.S. Dollar retail price of about $15 per flag, our Event Flags are a great way to personalize your event, a hole in one flag for your course, or just use as a souvenir for your course. The flag has a sewn in pocket so it is easy to slip over the flagstick; or best yet, it will lay flat and thus makes it easy to frame or display as an award or trophy.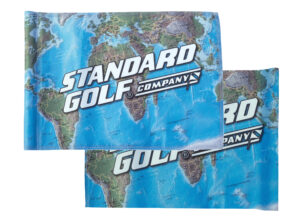 How to order your custom golf flags
Regardless of what type of custom flag you are interested in ordering, there is a slight process. First, you'll need a vector file of your logo (this will save you our $75 art charge). Secondly, you'll need to know how you want the flag laid out – what's your design? Third, we will need to know what type of production, embroidery, screen print or dye-sub.
With all of our custom golf flags, please plan ahead! We are typically a 4 – 5 week production time from the approval of the layout. So please make sure to get us the orders as soon as possible so that you can get the beautiful custom flag you wish for your event.