Custom and Personalized Golf Flags
Standard Golf is a leading golf course accessories manufacturer, but did you know we also make a lot of customized and personalized golf flags as well? Of course you did. After all we've been making flags for many of golf's major tournaments since the 1970s. That's right, our flags have flown on the 18th green of more major tournaments than Jack Nicklaus, Tiger Woods and Annika Sörenstam have won: combined! That's quite a history! We're proud to continue this legacy this year as the tours re-start.
The Bubba Gump of Flags
I love the scene from Forrest Gump when Bubba and Forrest are talking about all the different kinds of way you can prepare shrimp.
"Anyway, like I was sayin', shrimp is the fruit of the sea. You can barbecue it, boil it, broil it, bake it, saute it. Dey's uh, shrimp-kabobs, shrimp creole, shrimp gumbo. Pan fried, deep fried, stir-fried…. that's about it."
This reminds me of all the different ways we can make flags here at Standard Golf. Not only can we go with different weights of the flags, but different colors, materials, shapes, and then of course all of the different options for customization. So yes, we can be seen as the Bubba Gump of flags.
Off the shelf we offer a wide variety of flags: 200 denier vs. 400 denier Nylon flags, a heavy weave polyester and even the venti-knit (remember those "pull overs" from gym class?). These flags can be a solid color, have a border of a different color, or even have two-tone. We have a great page on our website that shows all of the different "on the shelf" flags that we offer.
In addition to the plain flags, we can also number any of the 200 denier nylon, heavy weave or venti-knit flags. We also have checkered and an "open center" checkered flag that is perfect for screen printing or embroidering a logo (more on this later).
Custom Flags for All Occasions
As much as I can get talking about all of the different flag options we have, the fun part is when we can talk about the customization and personalization we can do for your golf flags. Custom flags are no longer for just the big golf tournaments and fancy fundraisers. Colleges, high schools and even one-day events are becoming popular. We've even made flags for people's own backyards! We are able to make nearly any type of logo / flag and for any budget.
There are three methods that we can use to make customized or personalized golf flags.
Embroidery
Screen Printing
Dye Sublimation
Embroidery
One of the most popular styles for customization. Our embroidered flags look awesome and really have a nice finish to the flags. From practice green to the course embroidered flags give off a professional image that is difficult to replace. Our embroidered flags have sophisticated feel to the customized golf flag. The thread used for the embroidered logo is UV protected so the logo will not fade. Combine with our quad-stitching along the border of the flags and the quality of embroidered flags from Standard Golf is difficult to match.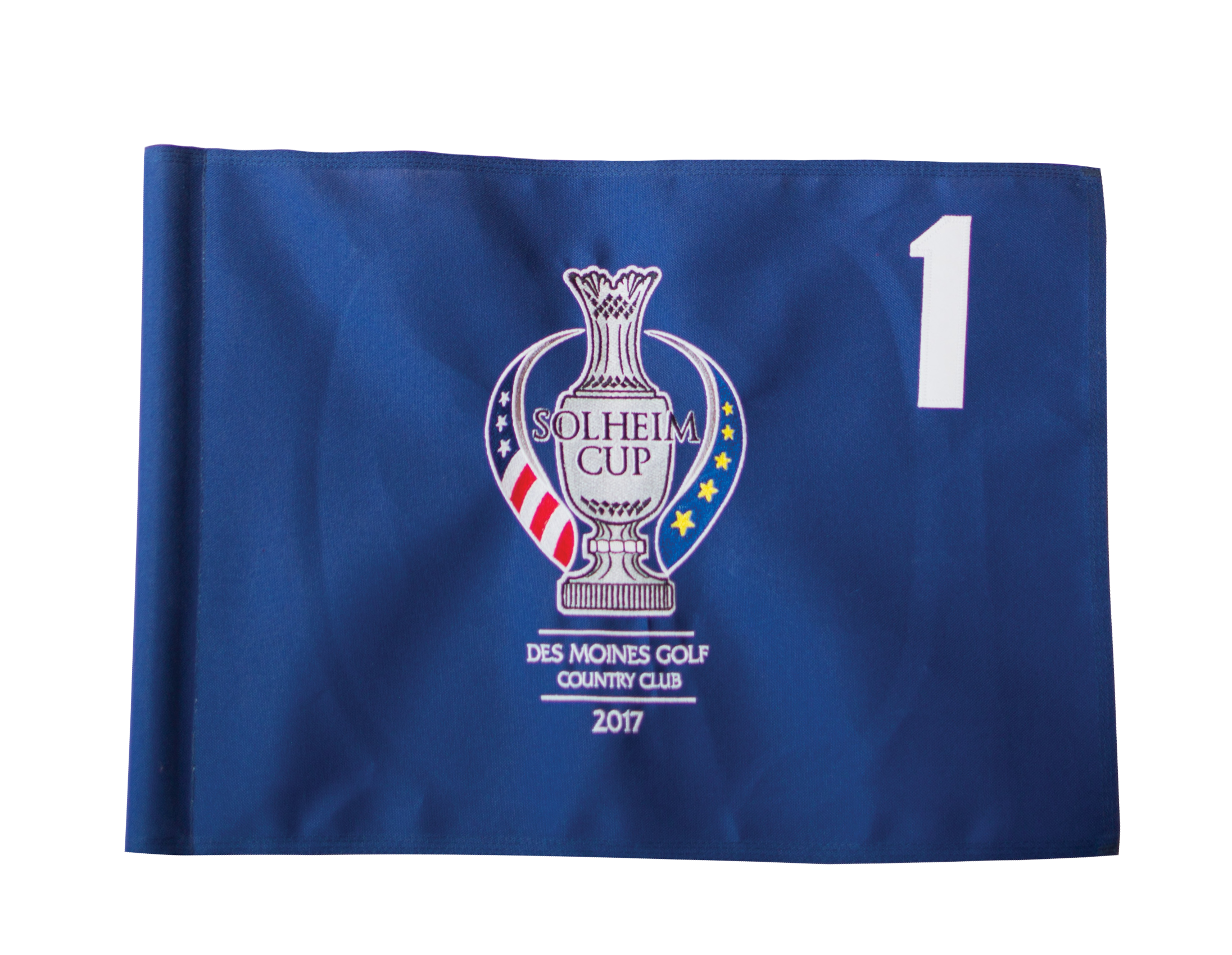 Screen Print
Like embroidered flags, the first step in making a screen printed flag is to determine the color and style of flag you wish to use. Remember, screen print is based on the number of colors used in the logo or "screen", so the more colors the more expensive the flag. Since the solid color flags are the same price, a great way to add color to your logo is with a colored flag and then a single or two-color logo.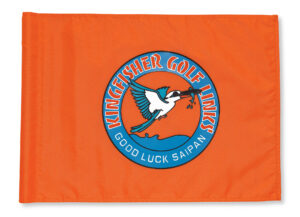 Dye-Sublimation
This is my favorite design method and one of our most popular due to the cost efficiency and customization capabilities. Dye-sublimation uses a heat transfer process to transfer the art work to the flag. The ink is UV protected so your logo and design will not fade quickly. "Dye-Sub" is perfect for using multiple colors and also for intricate designs. In addition, you can print "edge to edge" so if there is a unique color or pattern that you are looking to use, dye-sub is the best option.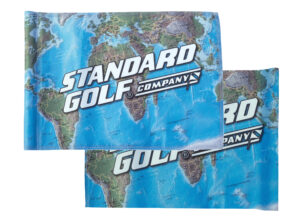 On the Course, Above the Course, and On the Wall
Our custom and personalized flags come in many sizes and applications. Looking to fully customize a tournament? We can make your practice green, course and your full-size flag pole the same customized flag. Want to add a trophy? Our Event flag is a perfect style to print and sell or give to Champions of your events.
Practice Green flags can be embroidered, screen print or dye-sub. Match the on-course flags with the practice green to help promote your event or further brand your fundraiser or course.
Another great option for branding your course or event is our Club Flag. Available in 4′ x 6′ or 5′ x 3′. These full-size flags are made with the dye-sub process and look sweet at the entrance of your club or even hanging in the maintenance garage.
Finally, our event flag is the perfect flag for 1-day events or to match the on-course flag and turn into a souvenir or trophy. A lighter-weight flag, this is the least expensive of our custom flags. With a sewn in tube, this flag is versatile to fit over a flagstick or frame and put on the wall. We see these flags used a lot for a one-day fundraiser or even for courses to mimic their embroidered on course flags to sell these as souvenirs or even as "hole-in-one" type awards.
Many Flags for Many Reasons
Whether you're looking for a specific style and design of a flag, or your budget is driving the decision, Standard Golf has a plethora of options for your customized and personalized golf flags.
If you can dream up a design or logo we can help make it a reality and fly high on or over your course.