Improved & Cheaper Litter Mate for 2019
Not to be lost among the dozen-plus
new products at Standard Golf for 2019

is our re-designed and price improved (yes, we lowered the price) Litter Mate.
The Litter Mate design is very popular among golf course superintendents and greenskeepers throughout the world and over the last 12 – 15 months we have been able to make some great new changes to this classic trash container.
The best and most noticeable difference would be the price. Our U.S. retail price dropped from $100 to $72 (for a single container, lid and mounting hardware) while our double unit came down to $130 from $180! Compare our U.S retail price to that of Par Aide ($86 and $146) and you can see that Standard Golf's Litter Mate is less expensive.
"We heard the comments that our Litter Mate was more expensive than our competition. So we worked hard with engineering and purchasing to redesign the mold, update the manufacturing process and purchase raw material at a better price. In all, this allowed us to add some features to our Litter Mate while delivering the product at a lower price than before, and now below our competitors' pricing."

Scott Hottle, General Manager, Standard Golf
The improvements to the Litter Mate for 2019 include:
1. Thicker, stronger shell
2. Three lid options (solid, trash, cans / bottles)
3. Easy grip handles molded into the side
4. No rust from spilled drinks or salt water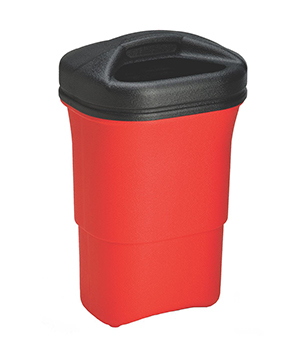 Litter Mates can be purchased as a single unit with choice of lid and hardware, double unit with hardware and two lids (solid and can / bottle) or containers only. The containers will be made in red, green or black.
Our Litter Mate is a great match for either our Tradition Tee Console Kit 2 or Tradition Tee Console Kit 3. Both consoles come equipped with either a Medalist or Premier Ball Washer to match the color of the Litter Mate.
For more information on our Litter Mate, or any of our products please contact your favorite

Standard Golf Distributor

or contact Standard Golf directly at 800-553-1707 or

orders@standardgolf.com