As Golf Opens We All Must be Good Ambassadors of the Game
By the end of this week the National Golf Foundation is estimating that nearly 95% of the golf courses in the United States will be open. This is great news! Especially when just one month ago only 48% of the courses were open. Recently New Hampshire was allowed to open so as of today, all 50 states are open for golf; albeit there are local and many other restrictions. But in short, golf is open, though not fully operational.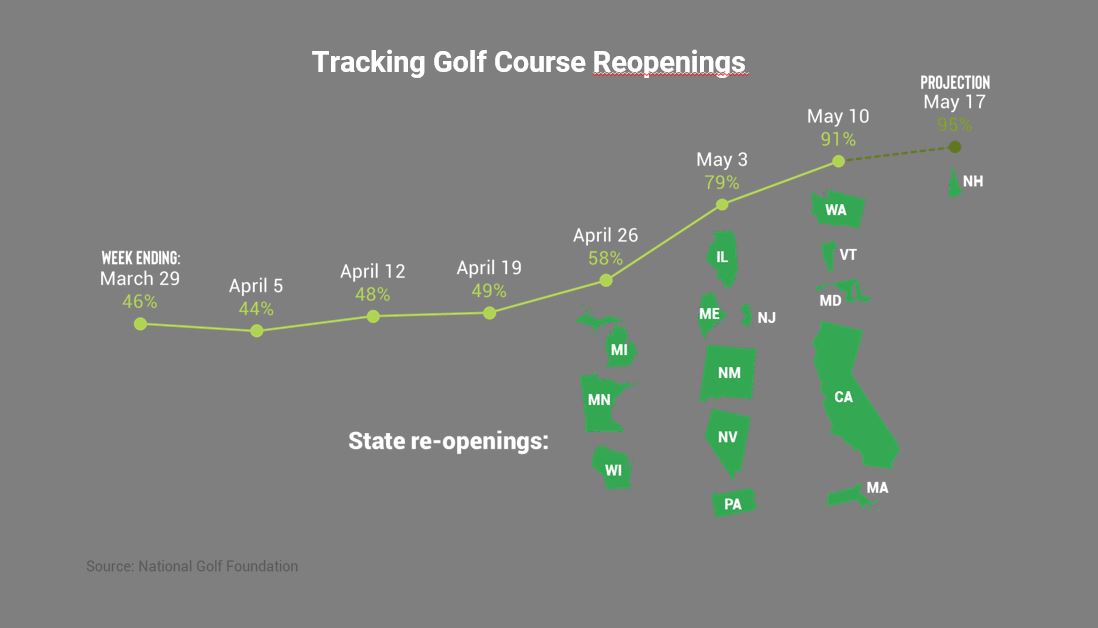 Rounds down for the year, but up for March
Now that seems a little odd. How can rounds played be both up and down? Digging into the numbers and it appears that year to date for 2020 (through March) rounds are down about 8.4% from 2019, however March 2020 was a nice uptick of 3.8% over March 2019. Nice early spring weather in the upper midwest was a positive. Just think how numbers could have rebounded if golf rich midwestern states (Michigan, Wisconsin, Minnesota and Illinois) were open for play. However by May 3rd these courses were open and on May 10th California begin play. If the last month has shown us, rounds will continue to improve month over last year and I suspect that we'll see big numbers of rounds played for courses this early season.
Below is just one indication of how rounds are booming in areas that are allowing golf. We can concur that our home course here in Iowa is also seeing big numbers.
Interesting stats from our pro shop, 2019 year-to-date was 452 rounds, 2020 we are sitting at 1702. This pandemic sure isn't hurting golf in North Idaho….with safety precautions of course

— Jessica Lenihan (@jklenihan5) April 28, 2020
No touch golf might be here for the season
It is important for all of us that play the game of golf to remember that golf really has a "Yellow Light" and not a full Go at this time. As we navigate the yellow light golf, social distancing and proper use of no touch golf is important to remember. As you may be aware we were quick to adapt to our changing environment and offered many new no touch golf products so courses could open and get the rounds playing. Our "No Touch" products include our safety cup, Covid-19 Local rules sign, cup saver, personal bunker rake (cart rake) and our practice green targets. You can check out our full list here on our  No Touch Golf page to see all that we offer for this time.
As. you know I'm a big fan of video, and this is a great demonstration on Social Distancing on a course. Check these guys out from Mistwood Golf Club in Romeoville, IL.
GOLF SOCIAL DISTANCING 101: We take #socialdistancing seriously here at #MistwoodGolf. To further show that…here's Russ & Jim with this important demonstration. #COVID19 #Back2Golf pic.twitter.com/NTSsEYU6Ow

— Mistwood Golf Club (@MistwoodGolf) May 5, 2020
With bunker rakes, ball washers, water coolers and other high touch items removed from courses and pro shops and clubhouses closed at this time courses, though getting a lot of rounds played, are not getting their full revenue. Some do not allow carts to be used, many cannot allow dining inside as well. So just because you see the high number of rounds, don't be surprised to continue to see course slip with revenue.
Re-introduce 2020 New Products
Marketing in time of a pandemic is something I've never done before, however Standard Golf has. Founded in 1910 we've survived 2 World Wars, The Great Depression and the Spanish Flu as well. So it is no surprise that we are here, and ready to help our distributors and golf courses around the world. Demonstrating our agile manufacturing with our No Touch Golf is important, but so is continuing to remind all of our new product line-up for this year.
Interestingly, many of the new products we developed for 2020 were geared toward helping the superintendent be more efficient with their jobs and products that could cross-over to no touch golf.  Take a look at all of our 2020 New Products  or go back in time to January 2020 and re-read and view our introduction videos for our 2020 New Products.
We truly hope everyone continues to be healthy and are able to reach some form of normalcy in the coming days. Of course we're bias, but we believe golf can be a great bridge to help us all feel more normal again.